In this Issue

Contributors


Letters to the Editor


Write to Us


Spread the Word


Back Issues
COLUMNS


Language Interference
False Friends between
German and English
How to avoid the traps
of deceptive similarities


Focus on Language
Awareness
Introduction
Academic Writing:
Writing an Essay —
Structure and Vocabulary
UK version ¦ US version

New word of the month
New words caught in
the web of politics


Top Tips for the CD-ROMs
Using the CD-ROM as a
thesaurus with SmartSearch
Top Tips for the CD-ROMs
Using the CD-ROM as a thesaurus with SmartSearch
by Mairi MacDonald
1 Using SmartSearch to create lists of synonyms
In previous issues we have looked at the ways in which you can use SmartSearch to search through examples listed in the Macmillan English Dictionary and create activities for either grammar practice or vocabulary extension. This month we look at how exploring the definition text can generate information to help students expand their vocabulary and use the CD-ROM as a thesaurus.

Try the following example:
SmartSearch > Type in eat > More search options > Definitions > Part of speech > verb > Go
This produces a list of 96 words. You can further restrict the search according to style and frequency to narrow down your results. Selecting Style > informal will give you 21 words:

demolish
eat like a horse
feed your face
grab
graze
guzzle
mainline

nosh
OD
overdose
pack away
pig
pig out
polish off

put away
scoff
tuck away
tuck in
tuck into
whip up
wolf
2 Using phrases to find synonyms
Because the Macmillan English Dictionary has a strict defining vocabulary, it is possible to predict certain patterns in the definitions. Say you want to find synonyms for mull over. The definition reads 'to think carefully about something over a period of time'. If we get the dictionary to pull out verbs with the phrase 'think carefully' in the definition text, we get the following list:
chew on
chew over
choose your words
(carefully)
cogitate
compose your thoughts
consider
contemplate
deliberate

evaluate
look before you leap
look at
meditate
mull over
plan
ponder
re-examine

reflect
ruminate
size up
turn up
use your head
weigh your words
be careful what you
wish for (it might just
happen)
The above list was created by the following search instructions:
SmartSearch > Type in think carefully > More search options > Definitions > Part of speech > verb > Go

By looking closely at how the word you want to find synonyms for is defined, SmartSearch can pull out a range of synonyms to suit your needs. Try these search strings.
3 Activities

Synonyms activity
Aim: To build students' vocabulary.
Activity: Students use the dictionary and a prepared list of synonyms to rewrite sentences.
Create the activity

1 Copy example sentences with complain.
(SmartSearch >Type in complain > More search options > Examples > Go)
2 Find synonyms of complain.
(SmartSearch > Type in complain > More search options > Definitions > Part of speech > verb > Go)
This will create the following list of words:

beef
bellyache
bemoan
bend someone's ear
bewail
bitch
bleat
carp
gripe

grouch
grouse
grumble
kick up a fuss/stink/row
moan
murmur
mutter
quibble
rant
rant and rave

remonstrate
scream the place down
snivel
start
start on
suck it up
whine
whinge
yammer
3 You can either get students to investigate the words on the CD-ROM or select Print from the Edit menu next to the list of synonyms.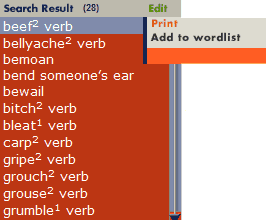 Students can use the book version of the dictionary while referring to the wordlist.
Tip
Depending on the level of your students you may want to create your own list of synonyms based on the search results.

If you want to reduce the number of search results, you can select additional filters e.g.
Style > None of > formal
B Getting students to investigate a theme
If your students have access to the CD-ROM, they can investigate the search results of a particular set of synonyms themselves and experiment with the part of speech, style and frequency filters. This task is deliberately open-ended to give the students a chance to explore the relationships between the words.
1 Get students to choose one of the search strings from the first part of the article.
2 Students can make a chart in the form of a mind map or table and categorise the words in any way that they choose. Students should take note of the frequency, register, synonyms, different parts of speech and any phrasal verbs or idioms that might crop up.