In this Issue

Contributors


Letters to the Editor


Write to Us


Spread the Word


Back Issues

FEATURE


Christmas is Coming!
Read about Christmas traditions and words you often hear
COLUMNS


Language Interference
Friend or Foe?
Decide by finding out more about False Friends and the language learner

Focus on Language
Awareness
Introduction
Business English: CVs
UK version ¦ US version

New word of the month
Are you having trouble finding the perfect Christmas gift?

Top Tips for the CD-ROM
Use WordSearch and TextSearch to practise Christmas vocabulary
Top Tips for the CD-ROM
Using TextSearch and WordSearch to practise vocabulary relating to Christmas
by Mairi MacDonald
The WordSearch and TextSearch facilities on the Macmillan English Dictionary CD-ROM allow you to pull out entries relating to a particular vocabulary topic. This month we look at how the MED CD can help you create some festive vocabulary activities.
1 WordSearch
If you type Christmas into the search box and press Go, you'll get about 16 entries containing the word Christmas. However you can use WordSearch to get a more comprehensive list: WordSearch allows you to look for all the instances of the word Christmas in phrases and collocations as well as simple headwords and compounds.
Click on WordSearch (just below the search box) to expand the search panel.

Select Phrases and Collocations.

Click on Go.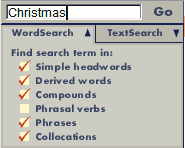 Your search results should look something like this:
Christmas box
Christmas cake
Christmas card
Christmas carol
Christmas cracker
Christmas Day
Christmas dinner

Christmas Eve
Christmas pudding
Christmas stocking
Christmas tree
Father Christmas
white Christmas
Happy Christmas

Merry Christmas
Christmas card
Christmas present
Christmas rush
Christmas vacation
wish someone Merry Christmas
To save your search results, click on Edit and select Add to wordlist.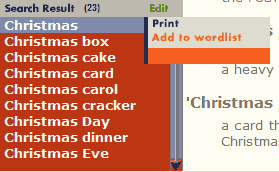 2 Activity: Christmas Compounds Quiz

MED has a flashcard facility your students can use to test themselves on any wordlist that you or your students have created. Here is how to create a quiz in three stages:
1. Run WordSearch
For the purposes of this activity, run the WordSearch again, this time check only Compounds. This will give you about 13 compounds which we'll use to form the basis of our quiz.

2. Create a wordlist
Save this list by clicking on Edit and selecting Add to wordlist. You will be prompted to type in a title for your list, for example Christmas Compounds. Once you have created your wordlist, MED CD's flashcard facility will automatically create a quiz based on the words you have.

3. Create flashcards
Select View, Wordlists to bring up the wordlist panel.

Click on Run flashcards.
Select the title of the list you want to make into flashcards.

Select Show entry (without headword) and click on Go!
This will give you a series of 13 flashcards testing your students on the Christmas compounds you selected form the WordSearch.
Tip
You can remove any entries that might be infrequent and unhelpful for students by opening up a wordlist, highlighting the word you don't want and selecting Delete word from the list.
3 TextSearch
A good way of finding words relating to a particular vocabulary theme is to look for examples of that word in the definition text and TextSearch allows you to extend your search to include the entire dictionary text. To find entries containing Christmas in the definition text:
Type Christmas into the search box.

Click on TextSearch to expand the search panel.

Select Definitions.

Click on Go.



This creates the following list of words:
Advent
Advent calendar
Boxing Day
carol
carol singing
Christmas box
Christmas cake
Christmas card
Christmas carol
Christmas cracker
Christmas dinner
Christmas Eve
Christmas pudding
Christmas stocking

Christmassy
Christmastime
Christmas tree
cracker
crib
dame
fairy lights
Father Christmas
feast
festive
greeting
hamper
holly
Merry Christmas
mince pie

mistletoe
mulled wine
the Nativity
nativity play
pantomime
robin
Santa Claus
Season's greetings
tinsel
turkey
white Christmas
Yule
Yuletide
Tip
Why not try your own TextSearch using a word relevant to a topic you are teaching? For example, if you type in weather and select Definitions, you'll get 176 weather-related words.
You could also get your students to find their own list of words for homework and get them to compare their search results in class.
4 Activity: Christmas Categories
Give students the list of words generated by the TextSearch and ask them to complete the chart below. They can use the Macmillan English Dictionary to check their answers.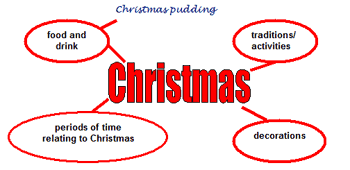 These categories are not exact and there is some overlap and not all words fit neatly into a category but the aim of the exercise is to get students thinking about the words before they refer to their dictionaries to check.
Click here to see the answers.
5 Activity: Christmas Crossword
You can use the words you generated from TextSearch or WordSearch to make your own crosswords, WordSearches, quizzes etc. Here is a Christmas crossword based on the TextSearch and WordSearch outlined above.
Click here to download the crossword (120 KB PDF format) and the answers (102 KB PDF format).