In this Issue

Contributors


Letters to the Editor


Write to Us


Spread the Word


Back Issues
FEATURE


Housing vocabulary in
American and British English
COLUMNS


Language Interference
Stringing Words Together
Language interference at
sentence level

Focus on Language
Awareness:
Introduction
British and American English
Differences in spelling and grammar
UK version ¦ US version

New word of the month
New words for the autumn


Top Tips for the CD-ROM
House and furniture
vocabulary activities


onestopenglish.com

Top Tips for the CD-ROM
House and furniture vocabulary activities
by Mairi MacDonald
If you want your students to review vocabulary related to a particular topic area, the Macmillan Essential Dictionary comes with an in-built activity generator that allows them to practise any words you choose to put in the Wordlists. The following is a step-by-step guide to creating your own Wordlists, and setting up vocabulary activities that will give your students plenty of practice of furniture- and house-related vocabulary.
Creating Wordlists
1 Find words relating to furniture
| | |
| --- | --- |
| • | Select SmartSearch. |
| • | Type in furniture, check Definitions and select Part of speech and noun. |
| • | Click Go. |
2 Create a wordlist
The search above gives you 40 results in the bottom left panel, where you should select Edit and click on Add to wordlist.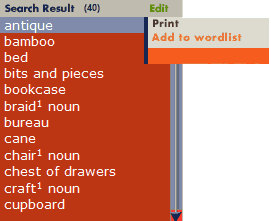 | | |
| --- | --- |
| • | When the Add to wordlist dialog box comes up, select New wordlist. |
| • | Give the new wordlist a name, for instance 'furniture', and select OK. |
| • | Now click OK and the 40 words will be added to your new wordlist. |
NB: Make sure the first word on the list - antique - is highlighted to be sure of including all these words on your new wordlist.
3 Edit your wordlist
You will probably want to adapt the wordlist according to the level of your students. To do this:
| | |
| --- | --- |
| • | Select View from the main dictionary menu and select Wordlists. |
| • | Select the 'furniture' wordlist you have just created. You will see the list in the middle panel. |
| • | Highlight the word you want to delete by clicking on it and then click on Delete word from list. |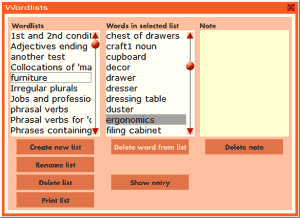 Tip

You can also add words from single entries by simply going to that entry and selecting Edit, Add to wordlist in the main dictionary menu.

When you are happy with your wordlist, close the box to return to the main dictionary window.
Choosing the suitable activity
Select Activities from the main menu and choose an activity. The following activities work well with the chosen vocabulary set. The activities are listed in order, from easiest to the more challenging.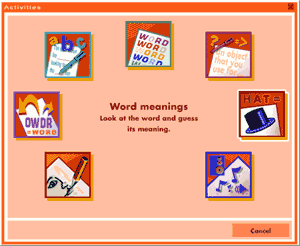 Word meanings
Students try to remember what the words on the list mean. This is useful for words that students only need to recognise.
Definitions
Students look at the meaning and guess the word. This is useful for vocabulary that students will need an active knowledge of.
Scrambled words
Students re-order the letters and guess the word. Students can select Show definition if they get stuck.
Tip
In the Wordlist dialog box you can add a note, for example a translation or other information, to help students complete the activities. To add a note, select a word in the middle panel of the dialog box and type in the note in the yellow box on the right. Students can then chose the Show note option during the activity.

House-related vocabulary
For more house-related vocabulary, try the following searches:
| | |
| --- | --- |
| • | Select SmartSearch. |
| • | Type in room, check Definitions and select Part of speech and noun, Grammar and count, Frequency and very high frequency, high frequency and quite high frequency. |
| • | Click Go. |



| | |
| --- | --- |
| • | Select SmartSearch. |
| • | Type in house, check Definitions and select Part of speech and adjective. |
| • | Click Go. |



| | |
| --- | --- |
| • | Select SmartSearch. |
| • | Type in house OR home, check Definitions. |
| • | Click Go. |



| | |
| --- | --- |
| • | Select SmartSearch. |
| • | Type in building, check Definitions and select Part of speech and noun, Frequency and very high frequency, high frequency and quite high frequency. |
| • | Click Go. |